What do you think of when you hear "Peppers"? Sweet peppers or hot peppers? And what is the difference?
Did you know the amount of spiciness is found in the seed? It is measured by the Scoville Heat index. The hottest peppers are habanero and chili peppers. Yellow hot wax peppers, red cayenne and serrano are considered mid-range. Mild peppers are banana peppers and cherry poppers. The mildest peppers, and the ones we will mostly be talking about in this blog, are sweet bell peppers. [1] Read on to learn more about these nutritious and delicious powerhouses! We bet you'll want to pick a peck today! 
Selection:
Bell peppers are harvested in Georgia between the months of July – September. [2]  
Although most of the time bell peppers are usually harvested when they're green, they become yellow, orange and red if they are not picked after reaching full size. The yellow, orange and red peppers are sweeter than green peppers. [3] The stems should be cut to keep from breaking the branches. 
It is important to look for diseases on the peppers when harvesting. One example is a brown rot on the bottom or sides of the fruit. Bacterial leaf spot causes spotting on the fruit, but there are varieties of peppers which are resistant to this disease. [4] 
Cleaning and Storing 
Peppers should be stored in the refrigerator for up to 2-3 weeks after harvesting.

 
Peppers can also be stored in the freezer.

Wash, cut out stems, cut in half and remove seeds.

Cut the peppers to the desired size and spread on a tray to freeze. Once frozen, move the peppers into plastic bags and keep in the freezer. 

 

Peppers can also be stored by drying them. Pull the whole plant before the first frost and hang it upside down.

[1]

 
Cooking
When ready to use rinse with cold water to clean and cut to appropriate size if needed.

 

Always remember to protect hands with gloves if the pepper is spicy to prevent skin or eye irritation.
Ways to enjoy peppers;

Sauteed or roasted as a side dish or with other vegetables

 

Great pickled or in relishes

 

Eaten raw in salads

 

Cooked in soups

 
    Enjoy this easy and tasty Colorful Quesadilla recipe filled with sweet peppers.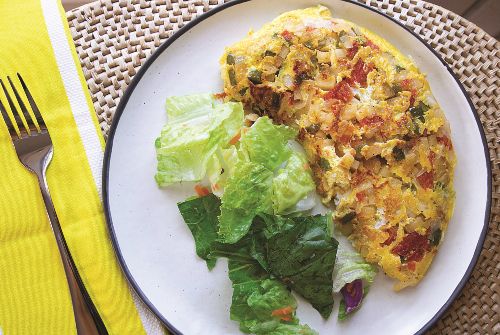 Another delicious way to enjoy bell peppers is in this Apple and Veggie Omelet.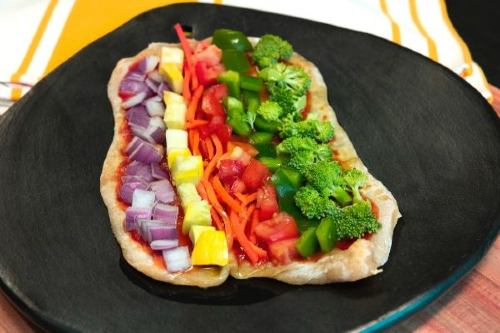 This Rainbow Pizza is an excellent way to get in a serving of vegetables. 
One bell pepper can meet your daily requirement of vitamins A and C and add wonderful flavor to any meal.[1] [5] Stay posted for our next blog in the  "How to Use Seasonal Produce" series. 
Posted on August 14, 2023 
Written by Leslie Davis, MS, RDN, LD, CDCES |edited by the nutrition education team 
Be Creative
Drink Water
Focus on Health
How to Cook Better
Invite Your Kids
Plan Ahead
Save Money
Shop Smarter
Store Food
Uncategorized