You know how you like them…whole vs ground into peanut butter, crunchy vs smooth, boiled vs raw, salted vs honey roasted. Read on to learn some of our favorite facts about peanuts!  
Did you know…? 
The average American eats 3 pounds of peanut butter a year. [1] And as Americans are snacking more than ever, you may be glad to hear that peanuts can be a healthful snack! [2] One serving of peanuts is a good source of protein, vitamin E, niacin, folate, phosphorus, and magnesium.  
While peanuts are naturally cholesterol-free and low in saturated fat, some companies add fat to their peanut butter products to increase the shelf-life of the product. It is also common for peanut butter to contain added sugars. A good rule of thumb when shopping for peanut butter is to find one made of just peanuts (and maybe salt if you prefer it).  
Stopping at the recommended healthy portion of an ounce of peanuts –about a ¼ cup three to five times a week – can be a challenge. One strategy is to buy peanuts in the shell. The action of shelling slows down how fast you eat them and how much you consume. Fall is an easy time to find boiled peanuts in their shell as peanut farmers are busy harvesting their crops.  
Note: If you are purchasing boiled peanuts, keep in mind that they are usually cooked in highly salted water. This means that they will have a higher sodium content and will need to be eaten in moderation.  
Looking for a fun activity to do with your kids? If you are interested in growing your own peanuts, you can do so from home! Grab a pot and some soil and check out this how-to video from the National Peanut Board.  
The Un-Official Peanut State 
Did you know that Georgia leads the U.S. in peanut production? [3] Peanuts are Georgia's official state crop. The state boasts the largest share of peanut production in the U.S. at nearly 50 percent for the 2019 crop. [4]  
Georgia has its very own Georgia Peanut Commission run by local farmers. Check out their website here to learn more about this crop and the role it plays in the state's local economy!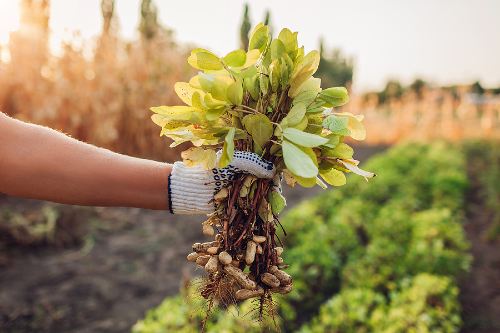 A Recipe for Every Occasion 
You can't go wrong with a classic peanut butter and jelly sandwich. However, there are so many ways to enjoy this legume! Peanuts and peanut butter also work well in a variety of dishes.  
Here are some of our favorite ways to enjoy them: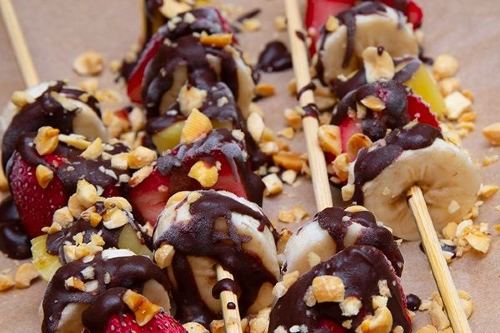 Boiled, roasted, in the shell, out of the shell, raw, ground-up… Any way you eat them, peanuts are a favorite budget-friendly food. 
Written by Laurel Sanville, MS, RDN, LD, and Darci Bell, RDN, LD | Reviewed by Leslie Davis, MS, RD, LD, CDCES, and the Nutrition Education Team    
Posted: September 20, 2021  
Be Creative
Drink Water
Focus on Health
How to Cook Better
Invite Your Kids
Plan Ahead
Save Money
Shop Smarter
Store Food
Uncategorized